Soy Powder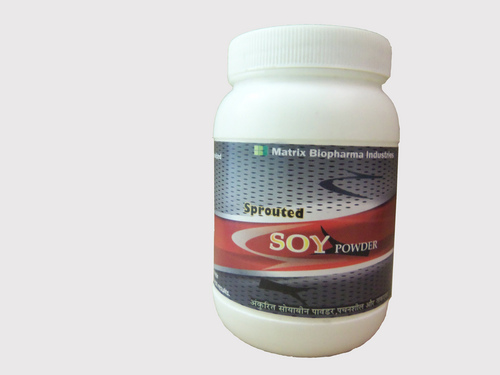 Soy Powder
Product Code : 10
Brand Name : Soy Powder
SPROUTED - SOYABEAN POWDER
Soyabean Sprouts powder by Matrix Biopharma inds is value added Soy powder for health cautious.
Our sprouted Soybean Powder is value added health supplement.
It is not Soy extract or Extarcted protein.
It is ideally suited for people looking for muscle gain, mass gain and is good natural bodybuilding supplement.
About 3 teaspoons of our Soy Sprouts a day will give a 154 pound (70 kilos) person, a substantial amount of their daily requirements of proteins, vitamins, minerals and phytochemicals. Apart from that this is a good health supplement for all ages and especially for diabetic patients.
Why Soy Sprouts powder
Sprouting naturally deactivates trypsin inhibitors and transforms soy into a fully enzyme-active safe 'living' food. Ezyme inhibitors makes Soybeans difficult to digest, only sprouting can remove these enzyme inhibitors and making all nutrients more bioavailable to human body. Sprouting Soybeans also increases concentrations of proteins, vitamins, minerals, phytochemicals, bio-flavonoids, RNA and DNA.
Matrix Biopharam inds uses selected best Soybean seeds for sprouting,Sprouting done hygienically and for optimum duration when Sprouts are at its nutrition peak. Soy sprouts are then powdered gently to low temperatures to ensure best and healthy soy living food. About us : Matrix Biopharma is a leading Indian manufacturer for quality health food supplements.
We look for Distributors inquiries for our health products from India- Mumbai- Delhi-Hyderabd-Bangalore-Pune-Chennai.
Related to : Soy powder, Soy extract, Soy Protein Powder